Intelligent controls, digital speed control , audible and visual alarms, "Autoflow" feature - as debris starts accumulating in the filters, the air flow through the unit decreases. The "Autoflow" feature increases the motor speed automatically to increase air flow.
Printing | Graphic Arts | Dust and Odor Removal | Source Capture
SPH-800 - Multiple Station Filtration
Twice as powerful as the SPH 400, this is our most powerful unit for medium to heavy duty laser applications
Designed to fit into an application where direct capture from the source is possible the SPH uses high power blower motors to pull the air through 3 stages of filtration consisting of a pre-filter for large particulate, a certified HEPA filter to capture 99.97% of all particulate greater than 0.3 micron and a chemical filter with up to 80 lbs. (36kg) of odour and VOC treatment
LaserBlue Gel seal guarantees NO BYPASS
This unit is available in brushed and brushless versions with up to 560cfm.
This unit has many options and can be customized for OEM applications
Compact installation requiring no bulky and expensive ductwork
Filters easily accessed and changed in less then 1 minute ( no tools required )
Powder coated durable welded cabinet
Recirculating purified air reduces heating and air conditioning cost
Optional digital i-series control panel - highly recommended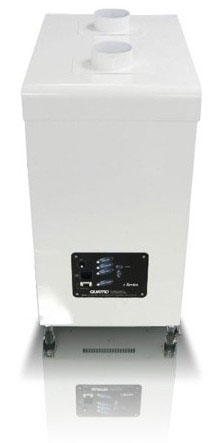 SPH835
Height
Width
Depth
Weight
CFM
W.C.
SPH82B5
Height
Width
Depth
Weight
CFM
W.C.
Standard
30" (760mm)
16" (406mm)
25" (635mm)
165 lbs (74.82 kg)
360 (610 cu.m / h)
90"
Brushless 2 Motors
30" (760mm)
16" (406mm)
25" (635mm)
165 lbs (74.82 kg)
534 (908 cu.m / h)
44"
High Speed Turbine
12.8 / 6.6 (SPH835
120 / 230
Brushless Motor
10 (SPH82B5)
230