Intelligent controls, digital speed control , audible and visual alarms, "Autoflow" feature - as debris starts accumulating in the filters, the air flow through the unit decreases. The "Autoflow" feature increases the motor speed automatically to increase air flow.
PRINTING, GRAPHICS DESIGN INDUSTRY

AIRBORNE DUST PARTICLE & CHEMICAL OFF-GASSING ODOR FILTRATION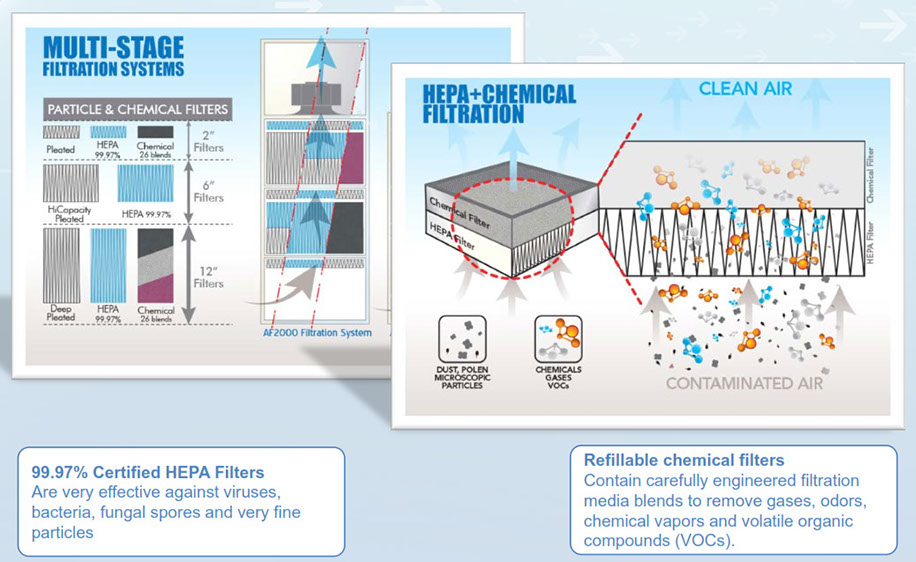 99.97% Certified HEPA Filters: Are very effective against viruses, bacteria, fungal spores and very fine particles
Refillable chemical filters: Contain carefully engineered filtration media blends to remove gases, odors, chemical vapors and volatile organic compounds (VOCs).
MULTI-STAGE FILTRATION SYSTEMS
HEPA + CHEMICAL ODOR FILTER
BreathEasy PRO series, BH and BHH Series, can provide air recirculation for both dust control (HEPA filters capture 99.97 % of particles as small as 0.3 micron) as well as VOCs and chemical odor, chemical off-gasing. As most large format printers are aware, off-gassing from the print material doesn't stop the instant that the material has printed. All of our systems are UL/CSA/CE certified and are available in 110V or 230V versions for shipping internationally. Call us today about your printing application.