Intelligent controls, digital speed control , audible and visual alarms, "Autoflow" feature - as debris starts accumulating in the filters, the air flow through the unit decreases. The "Autoflow" feature increases the motor speed automatically to increase air flow.
Downdraft Station, Space Saving Air Purification System with ClearView Containment Hood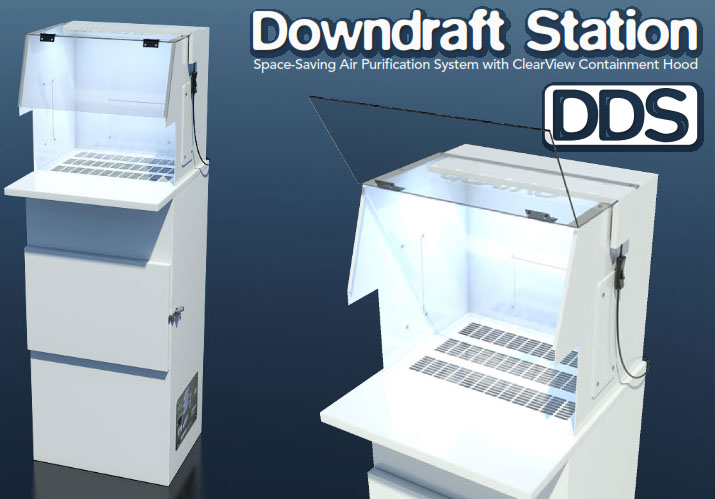 For a wide range of applications : chemical fumes, powder, fine dust removal, solvent vapor fumes, pharmaceutical powder filling, compounding, light grinding dust, acid gas fumes, anesthesia gas containment, epoxy fumes, and many more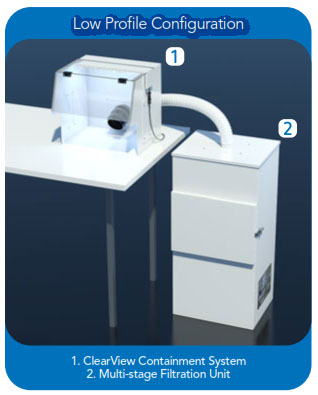 Powered by an ultra-quiet brushless motor and a multi-stage filtration system, the DDS Downdraft Station removes harmful particles from the work area and helps you maintain a clean and healthy workplace.
For restricted spaces, the Low Profile Configuration allows the system's containment hood to be installed on the workbench and connected to the top or the back of the Multi-stage Filtration Unit via flexible hose.
Available Configurations
Stand-alone
45.5"H (1155mm) x 16"W (406mm) x 17.9"D (455mm)
Low Profile
ClearView Containment System
14.5"H (368mm) x 15"W (381mm) x 15"D (381mm)
Multi-stage Filtration Unit
32"H (813mm) x 16"W (406mm) x 13"D (330mm);
High Intensity LED Bracket (optional)