Intelligent controls, digital speed control , audible and visual alarms, "Autoflow" feature - as debris starts accumulating in the filters, the air flow through the unit decreases. The "Autoflow" feature increases the motor speed automatically to increase air flow.
Air Purifier, Air Filtration System For Printers, Graphics Industry, Fine Dust Particles, Chemical Gas, Odor Removal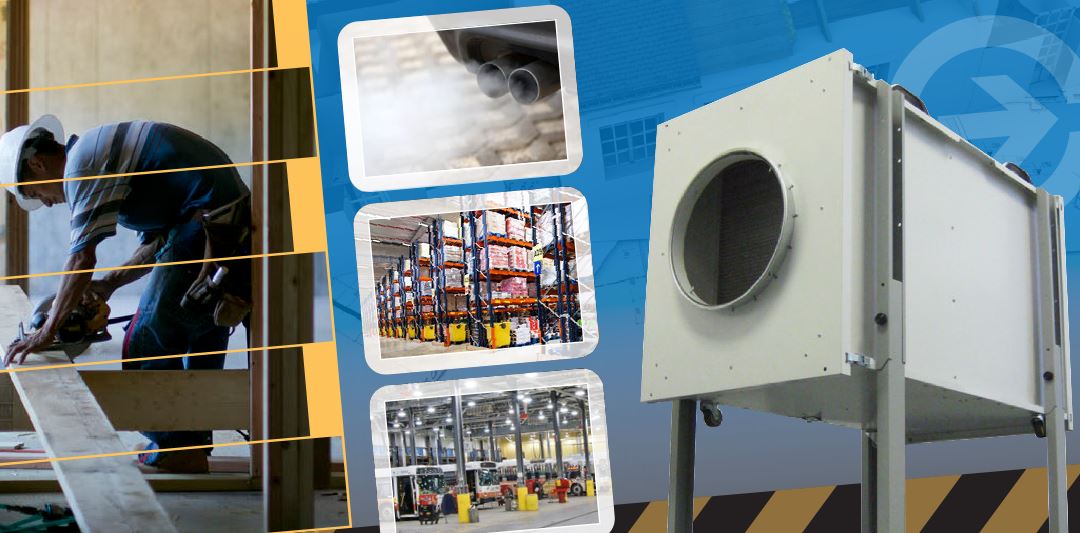 CONTRACTAIR Air Filtration System Air Scrubber
Compact, lightweight, versatile, multi-purpose portable air scrubbers, air filtration systems for advanced protection against dust, fine dust particulates, and chemical pollutants (chemical fumes, gases, odors). Highly efficient air filtration systems, air scrubbers designed to help remove dangerous, health threatening airborne contaminants, reduce the health risks in the workplace as well as protect sensitive equipment.
Applications:
Workshop Ventilation
Paint, solvent fumes, welding gases, dust and ultra-fine particulates from sandblasting, milling and woodworking
Garage Ventilation
dust, engine exhaust, diesel particulate matter, fuel storage, chemicals, VOCs
Essential for fire stations, ambulance bays, loading docks, toll stations, municipal garages, interior parking lots
Construction, renovation, demolition in schools, hospitals, medical facilities, etc.
Drywall cutting, sanding, concrete cutting, finishing, floor sanding, floor staining, thermal spray insulation, asbestos removal, lead removal
Mold Remediation & abatement
Features:
Standard inlet and discharge grills for recirculation modes
Compression clamps provide quick and easy filter access
Compression gasket for filter access panels guarantee proper sealing
Corrosion resistant and maintenance free motorized impeller
Energy efficient and whisper quiet operation, less than 62 dBA
Standard filter sequence: 2" MERV 8 pre-filter and 12" HEPA filter
Nominal airflow: 1500 CFM with standard filter sequence (Free air 2000 CFM)
Available Options:
2" or 12" deep chemical filter, up to 100 lbs, 26 custom blends available
12" deep MERV 14 filter
12" deep ULPA filter
2" deep HEPA filter
8", 10", 12", and 14" diamter duct collars
UV Lights
Heavy duty casters and lifting handles make the unit easy to maneuver and move around
Unit mounted pressure gauge to monitor filter condition
Control panel with variable speed control, circuit breaker, on/off switch
Adjustable legs for floor mounting, 2 - 17" (5 - 43 cm)
Ceiling mount kit
Custom remote controls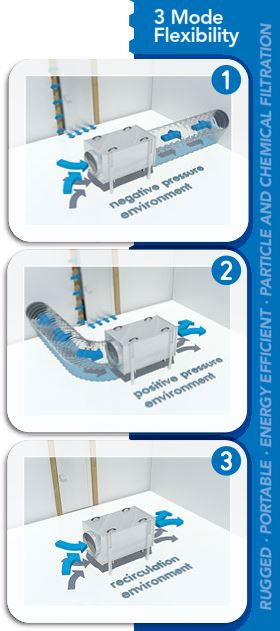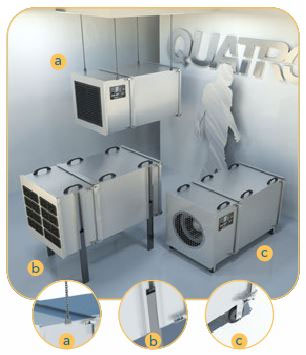 Modular Design: Complete air handling system, Stand-alone filter module, Draw-through configuration, Blow-through configuration, Ceiling mount (a), Free-standing unit (b), Portable configuration (c)
Three (3) modes flexibility: negative pressure environment, positive pressure environment, and recirculating environment